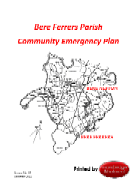 Bere Ferrers Parish Council – Emergency Plan 2016

The Bere Ferrers Parish Community Emergency Plan provides a useful reference to assist residents of the Bere Peninsula in dealing with a range of emergencies or unforeseen contingencies – containing practical advice and contact details of those organisations and people upon whom it might be necessary to call.
The Plan takes the form of an A5 booklet, which you can read here. If you wish, you can also save and/or print a copy on your own computer.
The Plan document is provided here in the popular Adobe® .pdf format. If you do not already have the necessary software on your computer, the latest version of Adobe Reader may be downloaded free-of-charge here.
Click here for the latest version of the Emergency Plan: November 2016.